Wednesday, April 8, 2015 - 12:45pm
The recent spate of announced openings of new retail stores, including many high-end retailers at City Center and hip eye glass retailer Warby Parker, will no doubt help fill a void in the District's retail landscape. These new stores will attract tourists on vacation shopping sprees and retain spending (and tax revenue) that might otherwise have occurred outside the District. At the same time, the proliferation of branded stores has changed the retail landscape in the District and in the nation. It is apparent to any casual observer that Mom and Pop stores are declining.
In this post we measure this changing retail landscape by looking at data on retail store size from the US.Census. There are seven categories, ranging from small Mom and Pop stores with 1 to 4 employees- to large big box retailers with more than 250 employees.
Here's what the data looks like.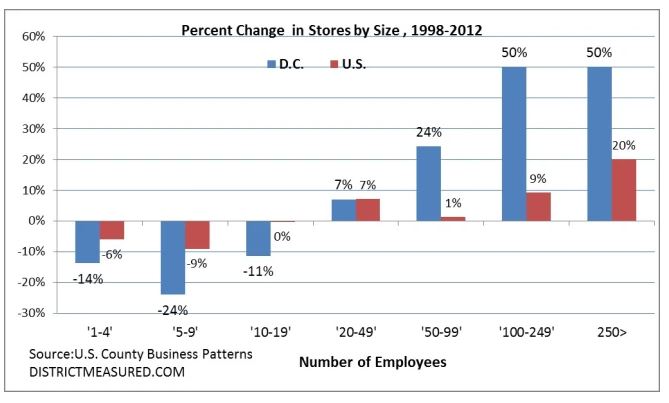 There has been a sharp decline in Mom and Pop and family run stores in DC. The pace of decline has outpaced the nation.
At the opposite end of the spectrum, there has been a 50 percent increase for both stores with 100 to 249 employees and for stores with 250 or more employees. This far outpaces the comparable figures for the nation at 9 and 20 percent, respectively.
It is important to note that small stores with fewer than 20 employees still comprise the vast majority, more than 85 percent of all retail stores, but their numbers are declining.
To some extent DC.may also be catching up to the nation in terms of numbers of large big box retailers whose presence had been relatively scarce here.
Here's a sample of the type of stores that are disappearing in DC and the stores who are taking their place.
Butchers (meat stores), Auto dealers and Book Stores are all disappearing. Pet, Furniture, Cosmetics and Convenience stores are increasing in DC. This trend is bound to generate varying opinions among readers. As revenue forecasters we are asked to predict what the future will look like. My prediction is that there will soon be a saturation point and consumers will want a more varied retail landscape.
What exactly is the data?
The data is from the US Census Bureau: County Business Patterns.
Bob Zuraski contributed to this post.