Friday, March 27, 2015 - 2:45pm
The District is one of the most expensive places to live in the country. That could be why Columbus is trying to woo DC residents.
The city of 800,000 in central Ohio, anchored by Ohio State University, has placed ads in Metro tunnels recently. Many of them seem to target millennials. One ad, below, specifically points out Columbus's affordability.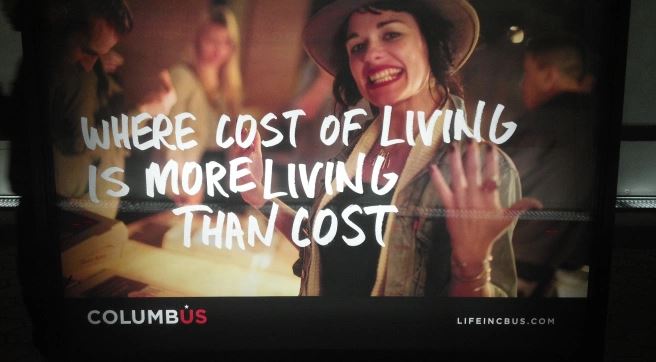 So how much cheaper is Columbus than DC? Let's take a look at the numbers.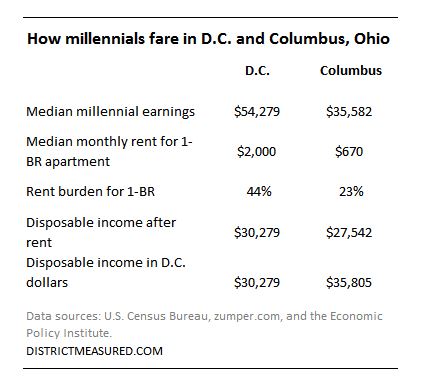 Living in Columbus isn't going to save a typical millennial as much as you might expect. Housing is much cheaper in Columbus but millennials in DC tend to make a lot more money. The result is that in both places a typical millennial renting a one-bedroom apartment would have about $30,000 left over for other expenses (before taxes). In Columbus this would go further, but not much – we estimate it'd be like having around $36,000 to spend in DC But this difference might be negligible since many DC millennials reduce their costs by having roommates and not owning cars.
The equation changes for DC millennials making below the median income. They might be able to save more by moving to Columbus if they could get a job there without a drastic pay decrease. Some of the ads seem to target young creatives, some of whom might fall into this group.
Plenty of millennials are betting on career trajectories that will make them enough money to keep DC affordable to them. If they want to buy a house or have children, though, costs will go up even more relative to those in Columbus. The median cost of a three-bedroom, two-bathroom home in DC is $788,000. In Columbus it's $222,000. Child-care for two children in DC is 75 percent more expensive than in Columbus. DC millennials might not be considering a move to Columbus now, but in several years they might re-think the numbers.
What exactly is this data?
"Millennial" means people between the ages of 18 and 34. We got the median millennial earnings from the Census Bureau and the rent data from zumper.com. To compare non-housing expenses in DC and Columbus, we used the family budget calculator from the Economic Policy Institute. We subtracted childcare costs from the family budgets to get a more realistic budget for millennials living in cities. Data on median home prices is from NerdWallet. Child care costs are from the Economic Policy Institute.