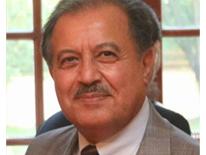 Position/Title:
Director of Economic Affairs
Farhad Niami joined the Officer Revenue Analysis (ORA) in July 2004 and currently serves as the director of Economic Affairs and manages the affairs of ORA on behalf of the deputy CFO in his absence.

Prior to his current position, Niami served as one of the senior regulatory economists at the DC Public Service Commission. Previously, Niami served as the state economist for the state of Louisiana. He has also worked as the chief economist at the Louisiana Public Service Commission and prior to that, as the chief economist at the Louisiana Department of Wildlife & Fisheries. He also served as the Louisiana governor's representative on numerous state and federal task forces.

Niami obtained his doctorate in resource economics from Oregon State University and a master's in economics from the University of Oregon. He also obtained a postdoctoral degree in resource economics from Louisiana State University. He has served as a graduate faculty member in economics at Oregon State, Louisiana State, and Bowie State Universities. Niami is the author and co-author of numerous articles, reports, and studies, and has made presentations to economic and other professional associations and organizations.